[::..archive..::]
October 2002
November 2002
December 2002
January 2003
February 2003
March 2003
April 2003
June 2003
July 2003
October 2003
November 2003
August 2004
September 2004
October 2004
November 2004
December 2004
January 2005
February 2005
March 2005
April 2005
May 2005
June 2005
July 2005
August 2005
September 2005
October 2005
November 2005
December 2005
January 2006
February 2006
March 2006
April 2006
May 2006
June 2006
July 2006
August 2006
September 2006
October 2006
November 2006
December 2006
January 2007
February 2007
March 2007
April 2007
May 2007
June 2007
July 2007
August 2007
September 2007
October 2007
November 2007
January 2008
February 2008
March 2008
April 2008
May 2008
July 2008
August 2008
September 2008
October 2008
November 2008
December 2008
[::..about me..::]
[::..podcast..::]
Learning curve, commence.
[::..quote..::]
"Everything in life
is only for now."
-Avenue Q
[::..current..::]
book - none
japanese - kanji
crochet - scrap squares
knitting - lace
sounds - iron & wine
podcast - yomiuri
food - hummus
[::..cool stuff..::]
:: Adbusters [>]
:: Spacing [>]
:: They Might Be Giants [>]
[::..radio..::]
:: Transom [>]
:: PRX [>]
:: Third Coast [>]
:: Marketplace [>]
:: On the Media [>]
:: This American Life [>]
[::..photoblogs..::]
:: Chromasia [>]
:: Constant Camera [>]
:: Cornershots [>]
:: Daily Dose of Imagery [>]
:: Express Train [>]
:: Joe's NYC [>]
[::..current gape..::]

[::..site feed..::]

[::..labels..::]
blog, democracy, japan, life, media, photos, radio, random, rants, san francisco, videos, work

:: Sunday, April 08, 2007 ::

Two for One

If you ask me, knitting is more annoying than crochet. It takes longer. You knit and knit and knit and then look at your sock to see it's the same size. If one loop jumps ship rows and rows of complicated work can be ruined. On the other hand, crochet is fast. Flexible. It's easy to make lace--actual doilies, with thread. Mistakes don't threaten to unravel an entire piece.

Lately, though, I've been knitting more than crocheting. Why? I've been crocheting for as long as I can remember. Mom set me down with the beginnings of a towel topper when I was five or so, and I thought it was cool. My grandmother taught me the basics a little after that and I've been at it ever since. If a technique exists, I've done it--thread crochet, tunisian crochet, hairpin crochet, filet, dishcloths, hats, baby stuff, doilies, afghans... I've conquered it all.

But knitting? There's still lots of stuff to learn. Lots of things to challenge me, to wrestle with. I like that. So... knitting it is. Here's the project du jour: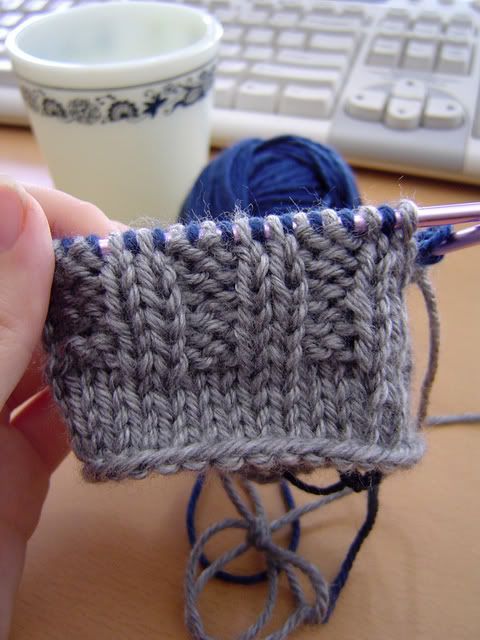 A sock. Knit on big needles, with thick yarn, but still, a sock. But wait, what's this?




It's actually two socks I'm knitting at once!

I found a great tutorial at knitty, an online knitting zine. Double knitting, the technique's called, and the tutorial dubs it the "ultimate knitting party trick -- extreme knitting at its best". So of course, I had to give it at try. ^_^ I'm tempted to move to sock weight yarn and needles right away... but I should make sure I'm able to turn a heel first. Just in case.

(And knitters, you know I was kidding in the first paragraph, right? Well... half kidding? Good. ^_^)
:: Kazen @ Always Doing 2:22 PM [+] ::
:: ... 0 comments ::