[::..archive..::]
October 2002
November 2002
December 2002
January 2003
February 2003
March 2003
April 2003
June 2003
July 2003
October 2003
November 2003
August 2004
September 2004
October 2004
November 2004
December 2004
January 2005
February 2005
March 2005
April 2005
May 2005
June 2005
July 2005
August 2005
September 2005
October 2005
November 2005
December 2005
January 2006
February 2006
March 2006
April 2006
May 2006
June 2006
July 2006
August 2006
September 2006
October 2006
November 2006
December 2006
January 2007
February 2007
March 2007
April 2007
May 2007
June 2007
July 2007
August 2007
September 2007
October 2007
November 2007
January 2008
February 2008
March 2008
April 2008
May 2008
July 2008
August 2008
September 2008
October 2008
November 2008
December 2008
[::..about me..::]
[::..podcast..::]
Learning curve, commence.
[::..quote..::]
"Everything in life
is only for now."
-Avenue Q
[::..current..::]
book - none
japanese - kanji
crochet - scrap squares
knitting - lace
sounds - iron & wine
podcast - yomiuri
food - hummus
[::..cool stuff..::]
:: Adbusters [>]
:: Spacing [>]
:: They Might Be Giants [>]
[::..radio..::]
:: Transom [>]
:: PRX [>]
:: Third Coast [>]
:: Marketplace [>]
:: On the Media [>]
:: This American Life [>]
[::..photoblogs..::]
:: Chromasia [>]
:: Constant Camera [>]
:: Cornershots [>]
:: Daily Dose of Imagery [>]
:: Express Train [>]
:: Joe's NYC [>]
[::..current gape..::]

[::..site feed..::]

[::..labels..::]
blog, democracy, japan, life, media, photos, radio, random, rants, san francisco, videos, work

:: Friday, November 10, 2006 ::

Of Bats and Sleep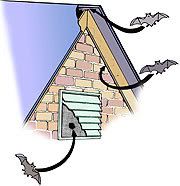 I just heard this on This American Life's Halloween episode. All of the stories for this show are not only scary, but real to boot. Carbon monoxide poisioning making a family think their house is haunted. A monster that has escaped from the insane asylum. And this, from a story about attacking, rabid raccoons:


...which brings me to a quick public service announcement. A bat can bite you in your sleep without you even knowing it, and without leaving a mark. So if you find one in a room with a sleeping person, you have to catch it and have it tested [for rabies]. And if you can't catch it you should go to a doctor.

I'm serious. I learned about this, it freaked me out, and now I want to tell people.


Not only is it scary, but it's also factual, informative, well-written and well-presented: damn fine radio.

image credit: University of Missouri

Labels: Radio


:: Kazen @ Always Doing 5:19 PM [+] ::
:: ... 0 comments ::