[::..archive..::]
October 2002
November 2002
December 2002
January 2003
February 2003
March 2003
April 2003
June 2003
July 2003
October 2003
November 2003
August 2004
September 2004
October 2004
November 2004
December 2004
January 2005
February 2005
March 2005
April 2005
May 2005
June 2005
July 2005
August 2005
September 2005
October 2005
November 2005
December 2005
January 2006
February 2006
March 2006
April 2006
May 2006
June 2006
July 2006
August 2006
September 2006
October 2006
November 2006
December 2006
January 2007
February 2007
March 2007
April 2007
May 2007
June 2007
July 2007
August 2007
September 2007
October 2007
November 2007
January 2008
February 2008
March 2008
April 2008
May 2008
July 2008
August 2008
September 2008
October 2008
November 2008
December 2008
[::..about me..::]
[::..podcast..::]
Learning curve, commence.
[::..quote..::]
"Everything in life
is only for now."
-Avenue Q
[::..current..::]
book - none
japanese - kanji
crochet - scrap squares
knitting - lace
sounds - iron & wine
podcast - yomiuri
food - hummus
[::..cool stuff..::]
:: Adbusters [>]
:: Spacing [>]
:: They Might Be Giants [>]
[::..radio..::]
:: Transom [>]
:: PRX [>]
:: Third Coast [>]
:: Marketplace [>]
:: On the Media [>]
:: This American Life [>]
[::..photoblogs..::]
:: Chromasia [>]
:: Constant Camera [>]
:: Cornershots [>]
:: Daily Dose of Imagery [>]
:: Express Train [>]
:: Joe's NYC [>]
[::..current gape..::]

[::..site feed..::]

[::..labels..::]
blog, democracy, japan, life, media, photos, radio, random, rants, san francisco, videos, work

:: Monday, December 26, 2005 ::


Picture Time!


Just a tiny bit of time, so ceramics stuff!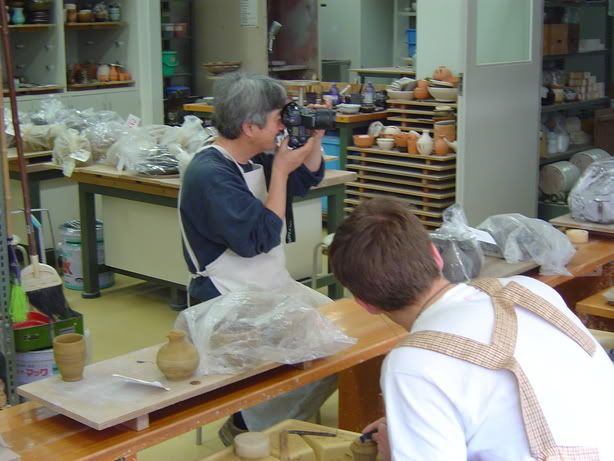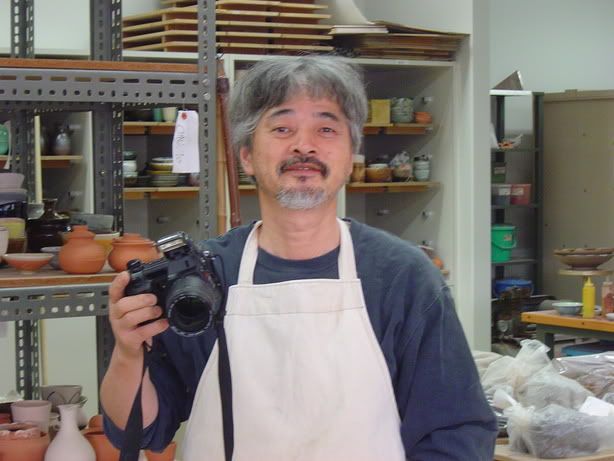 My favorite class last semester by far was Ceramics. This is Sensei--he took my picture, so I figured I could take his. :P At the end of the semester there was an exhibition of all of our work, and Sensei takes very nice photographs of our best works. Here are my four pieces:




Bowl, white clay, dipping sekai over tessha (R.F.), W.10 cm, H.6 cm.




Cup, red clay, blowing under glaze paint speckles, sekkai (R.F.), W.6.5cm H.5cm.




Bowl, red clay, Dipping tessha and sekkai separately (R.F.), W.11.5cm H.5.5cm.




Vase, white clay, dipping shirohagi on outside over black (R.F.), W.5cm H.7cm.

My favorite is the first one. The vase looks cooler in person, methinks. To see what other people in my class did, check out this page.

Little linguistic note--"Sensei" means "teacher" in Japanese. The characters literally mean "prior/earlier life", or one who came before. Whenever you talk to a teacher, you refer to them as Sensei. Sometimes I forget ceramics Sensei's name (Inomata) because I never ever hear it, hehe. In Japan the teacher/student relationship is considered lifelong. In the US you may call your professor by their first name after a time, but in Japan Sensei will always be Sensei, even 15 years down the road.

Now, time to run off to watch some Hana Yori Dango, which may be a post all to itself at some point. I hope everyone is having a happy holiday season!
:: Kazen @ Always Doing 5:28 AM [+] ::
:: ... 0 comments ::