[::..archive..::]
October 2002
November 2002
December 2002
January 2003
February 2003
March 2003
April 2003
June 2003
July 2003
October 2003
November 2003
August 2004
September 2004
October 2004
November 2004
December 2004
January 2005
February 2005
March 2005
April 2005
May 2005
June 2005
July 2005
August 2005
September 2005
October 2005
November 2005
December 2005
January 2006
February 2006
March 2006
April 2006
May 2006
June 2006
July 2006
August 2006
September 2006
October 2006
November 2006
December 2006
January 2007
February 2007
March 2007
April 2007
May 2007
June 2007
July 2007
August 2007
September 2007
October 2007
November 2007
January 2008
February 2008
March 2008
April 2008
May 2008
July 2008
August 2008
September 2008
October 2008
November 2008
December 2008
[::..about me..::]
[::..podcast..::]
Learning curve, commence.
[::..quote..::]
"Everything in life
is only for now."
-Avenue Q
[::..current..::]
book - none
japanese - kanji
crochet - scrap squares
knitting - lace
sounds - iron & wine
podcast - yomiuri
food - hummus
[::..cool stuff..::]
:: Adbusters [>]
:: Spacing [>]
:: They Might Be Giants [>]
[::..radio..::]
:: Transom [>]
:: PRX [>]
:: Third Coast [>]
:: Marketplace [>]
:: On the Media [>]
:: This American Life [>]
[::..photoblogs..::]
:: Chromasia [>]
:: Constant Camera [>]
:: Cornershots [>]
:: Daily Dose of Imagery [>]
:: Express Train [>]
:: Joe's NYC [>]
[::..current gape..::]

[::..site feed..::]

[::..labels..::]
blog, democracy, japan, life, media, photos, radio, random, rants, san francisco, videos, work

:: Monday, October 24, 2005 ::


How I Spent My Weekend: Part II


Again with the pictures, yea!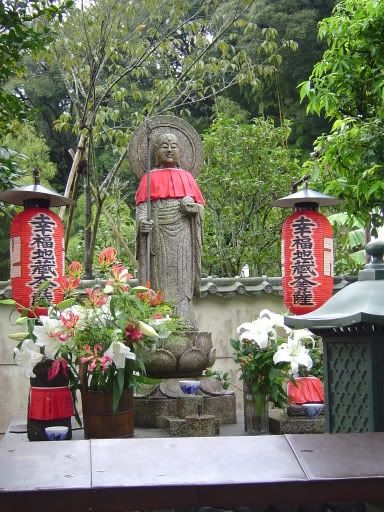 On Sunday I went to Suzumushidera. The name means "Temple of the Bell-Ringing Cricket". The monk who achieved enlightment here waaaay back in the day did so while listening to these pretty crickets. This is the statue in front of the temple of it's guardian Buddha type spirit. This statue is very famous because the Buddha is wearing straw sandals on its feet--very rare. The story is that he will grant you any one wish if you tell him your name and your address. Then he'll use those sandals to walk to you, whereever you are, to grant your wish. Pretty neat, huh?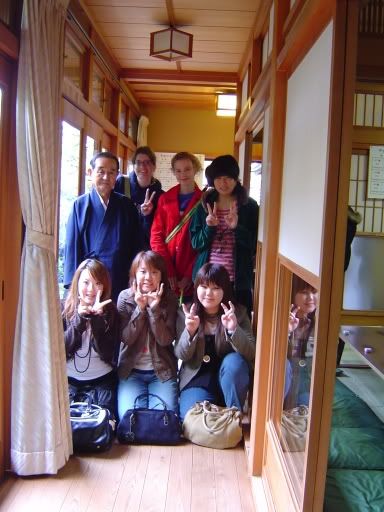 There was a 20 minute talk (in Japanese, of course), explaining about the temple and the god and how to make a wish. Here is everyone with him. He was really really really nice and understanding.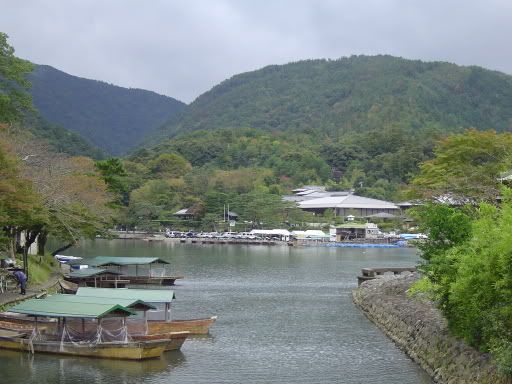 After that we took a train to a mountain town... can't remember the name just now. It was so beautiful! I want to go back when the leaves are changing (which will be December!). Noriko, my speaking partner, and I also plan to go back when the cherry bossoms are out. There are a bunch of super cute shoppes and things there, too. I really need to go back soon--this is the only time you can buy fall themed things.

So after that, we paid 520 yen (approx $5 US) to climb up a huge hill--Monkey Mountain!




There were monkeys all over the place. No cages or anything, just roaming about. I took so many pictures, hehe. I think we came at grooming time in the late afternoon--there were many pairs like this. This is right on the edge of the path we were walking on--you can see some shoes at left.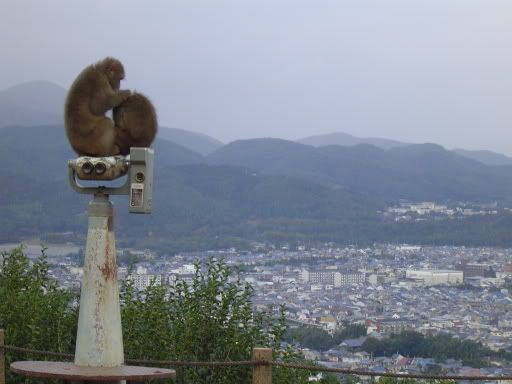 There was an amazing view of Kyoto, too.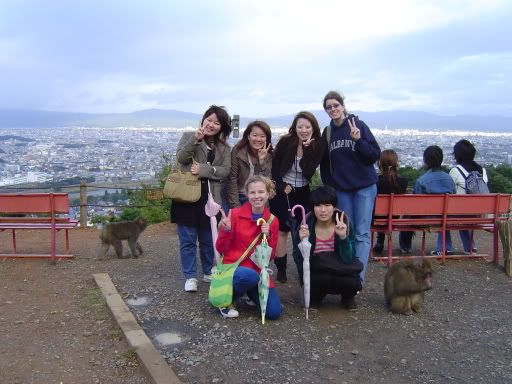 Everyone at the top of the mountain. I usually feel bad in group pictures--I'm so much taller than most Japanese girls! I feel like a giant sometimes, hehe. Do note the monkey next to me. ^_^

And one last picture: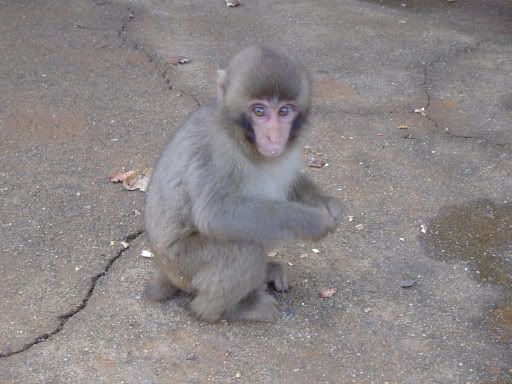 ...the baby ones are so cute. ^_^
:: Kazen @ Always Doing 11:21 PM [+] ::
:: ... 3 comments ::